The sound of your career coming together
Get your foot in the door of an award-winning technology marketing agency, with work experience placements, internships and entry-level roles.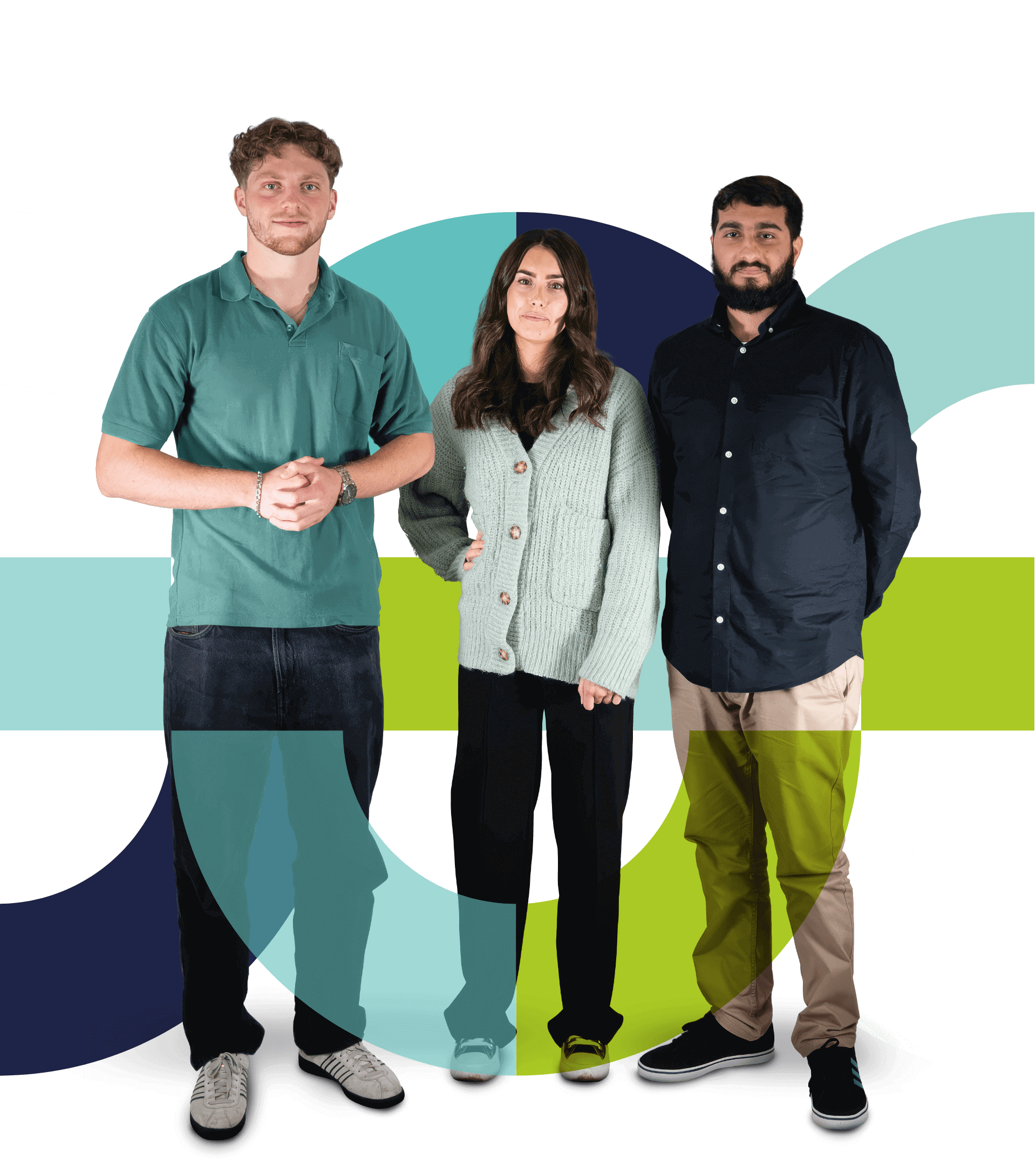 Let's get to work
Just dipping your toe into the world of work? Or ready to jump right into agency life? Either way, Click has a route for you.
Hone your skills and boost your career at Twogether, an award-winning business-to-business (or B2B) tech marketing agency. You don't need a degree or any agency experience: we mean it when we say it's open to everyone.
It takes all sorts
Yes we need creative types. But we can't function without the business-brains, the people people and the analytically adept.
Change minds
Tech is in everything we do – and it never stops moving. Join us in letting the world know about the latest leaps forward.
Make a difference
You and your work can make a real difference in the world through the community, climate and wellbeing initiatives Twogether is part of.
Get with the programme
Here's how you can be a part of it:
Work experience
Spend a week behind the scenes at Twogether. An introduction to agency life for Year 12 and 13 students.
find out more
Internships
Know what you want to do? Work in one of our departments, mentored by people who do your dream job every day.
find out more
Entry-level roles
Get to know our different departments and get structured training to help you on the way to a rewarding career.
find out more
Apprenticeships
Coming in 2024. Watch this space…
How to apply
Whichever route you choose, becoming a part of the Click programme is a four-step process:
Step 1 – Apply
Send us your details and tell us why you'd like a place in the Click programme. Spaces are limited so get your application in early.
Step 2 – Talk to us
Everyone who applies is invited for an informal video call. We'll chat about the opportunity and you can ask us your questions.
Step 3 – Find the best fit
We take the time to understand your goals and help you find the best route to reach them.
Step 4 – Selection
We'll write to you to let you know whether or not you've got a place. If you have, we'll send you all the details.
Where will Click take you?
You can go (almost) anywhere with the skills you get through Click. But you don't have to take it from us: here's what our talented Twogether teammates have to say.
FAQs
Got questions? Here's what people have been asking about the Click programme:
How old do I have to be to enter the Click programme?

The programme is open to anyone over the age of 17.
I need a visa to work in the UK. Can I still apply?

Sorry, no. You need to have the right to work in the UK.
Where does the programme take place?

Work Experience: Marlow.
Internships: Marlow or London.
What qualifications or experience do I need to have?

None! You don't need any previous experience or specific qualifications.
What do I need for the selection process?

Access to a computer and internet (for the video call).
Will I need to bring my own laptop to the programme?

No. We'll give you a laptop to use for your placement.
When are the Work Experience weeks?

There are two per year – in June and October. Up to 6 students can attend each one.
What hours will I work?

Twogether operates from Mon-Fri, 9am-5.30pm.
Will I be in the office all the time?

Work experience: in the Marlow office.

Internships: mix of working from home and in the office.
Will I get paid for my internship?

If your placement is over four weeks long, you'll be paid the Living Wage salary.